Jose Reports Some Good News
You humble Sun Valley reporter, Jose Mier, here again with some good news. There are signs of reopening in Sun Valley. If you recall, one of the restaurants I wrote about in trying to drum up support during the coronavirus shutdown was The Ramp on Hollywood Way.
As it happens I signed up long ago to be on their text list so I get daily updates on their specials and other offers. They've been marketing heavily these past few months, trying to keep their name in front of me (and anyone else who is also on their list).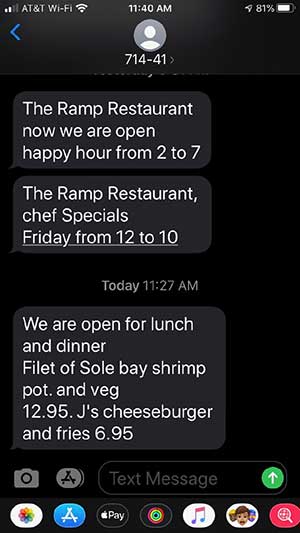 Yesterday I received some texts announcing that they are reopening for in-person dining! I used an exclamation point after that last sentence because this is the news I have been waiting and hoping for for so long. I've decried the shutdown and the hit our Sun Valley economy has taken as a result and hoped (and prayed) that we would reopen soon. It looks like my prayers have been answered in some small way.
Similarly, on a recent outing to Lowe's in Burbank, I had to drive through the Empire Center. The Olive Garden restaurant is located there as you most likely know. A large banner hung outside the restaurant announcing that they too were opening for in-person dining. After almost three months of COVID-induced malaise, my heart soared.
These are great signs. My hope is that many more restaurants follow suit. My only concern is that we may have become so used to social distancing, sanitizing everything and wearing masks that we have learned to be permanently afraid. On a personal note, I know people who are waiting, not daring to venture out until some unknown future date when everything is perfect. We have become so risk-averse that I wonder if this will continue to affect the economy. We have flattened the curve of COVID-19 and the rate Given that the death rate in California has been very low even from the beginning of the pandemic (4,422 as of today out of California's 39,000,000 residents) I think we're overreacting and should not be afraid to eat out. We as a state need to have the courage to go out and enjoy ourselves.
That being the case, one of the places we can now enjoy ourselves is The Ramp. So let's go. Save a table for Jose Mier!