Warmer Temps Good For Business, Bad for Fire
Jose Mier with the Sun Valley weather update. As we make our way into March the temperatures are rising a little bit into the mid-60s and sometimes 70s which is good for business in that restaurants, which are now serving food outdoors, can at least try to stay afloat. Warmer temperatures make it possible for diners to eat outside comfortably.
Taking a look, however, at the extended forecast for Sun Valley, I see more sunny and dry days ahead. Looking at our Sun Valley hillsides I see that are recent rains have made the hillsides greener but the longer we go without more rain the drier and more brown they will become and the more susceptible to wildfire. If there is a bright spot on the weather horizon it's that there are a couple potential days of rain coming up in March on the second and seventh. The possibility of rain on these days is only around 30 to 35% so we can hope that the extended forecast is accurate and we will get some rain on these days to keep our hillsides green.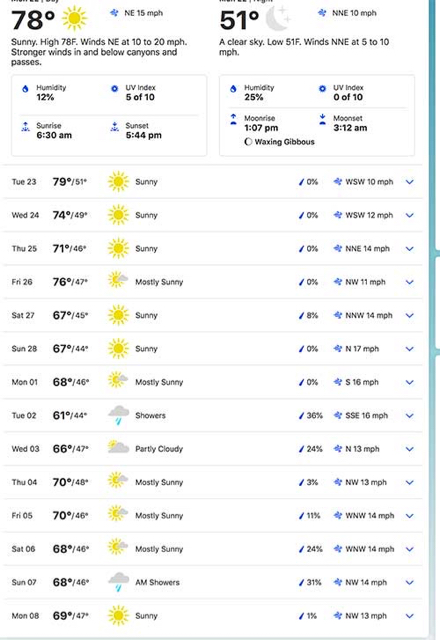 We are still in drought conditions here in Sun Valley as is the rest of Southern California and this winter has been particularly dry so any rainfall it comes our way is welcome. A couple days of rain should also not effect outdoor dining too much but we still need the rain so let's keep our fingers crossed.
Summary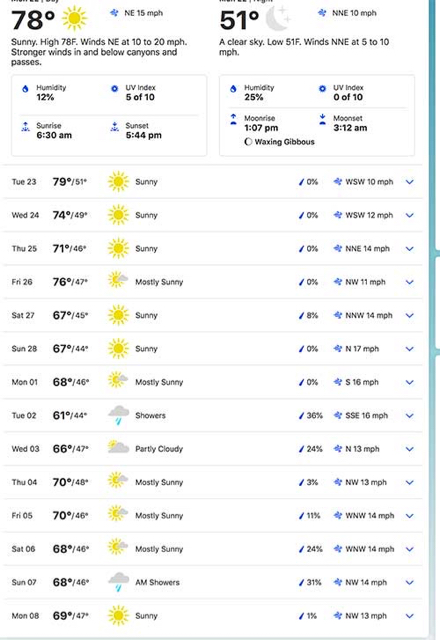 Article Name
Jose Mier Ponders Sun Valley Weather
Description
Jose Mier talks about the upcoming Sun Valley weather and the chance for rain in March. We need more moisture.
Author
Publisher Name
Publisher Logo