Fires Spur Use of Internet for Resources
As you know this is been a devastating fire season both in Northern and Southern California. As residents of Napa Valley struggle with their own fires, we here in Sun Valley and neighboring areas have been beset by the so-called Bobcat fire which is burning in the Angeles National Forest just north of Monrovia. Even though we're into October the temperatures have been stubborn and have continued to be hot with triple digit temperatures plaguing us over this past weekend.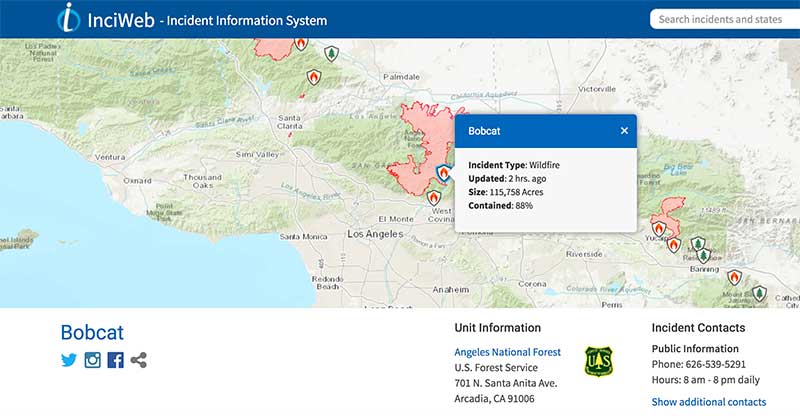 We have been fortunate that the winds have not pushed more smoke and ash toward us and although the fire still burns in places, the majority of it has been contained by firefighters. This brings me to my current topic which is the fact that due to all the fires that have threatened us this summer, I and many like me try to search for the latest information and fire updates online. One of the resources I found, which lists all the pertinent information about a fire is a site called Inciweb.  If you haven't had a chance to explore this website I urge you to do so. For me the simple search online for Bobcat fire returned this website at the top of the search results. I like this website because information is current. Other search results maybe a day or two old and not as relevant, but by going directly to Inciweb the latest information is at my fingertips.
The website will detail all the information about a particular fire, all you have to do is enter the name of that fire and it will display a map showing what area is affected. This website also gives information about the number of structures either threatened or consumed by the fire as well as any evacuation information for the communities that are affected by the fire.
For those that do live close to the fire – any fire— Inciweb is an invaluable resource and you should keep it handy on your mobile phone in order to get the latest updates and warnings.
I find it interesting that necessity has prompted many of us to learn which resources are available with information about natural disasters such as fires. There are others, such is the earthquake alert app called Shake LA which I have installed on my phone. Some are more useful than others and in the case of shake LA I haven't found it too useful. However Inciweb is a resource I continue to go to especially because Sun Valley is so close to the Verdugo foothills and the Angeles National Forest. Cities like Monrovia in Pearblosson some are the ones affected now but it could easily be Sun Valley so I recommend keeping websites like this figuratively in your pocket. You never know when we may need it.
Summary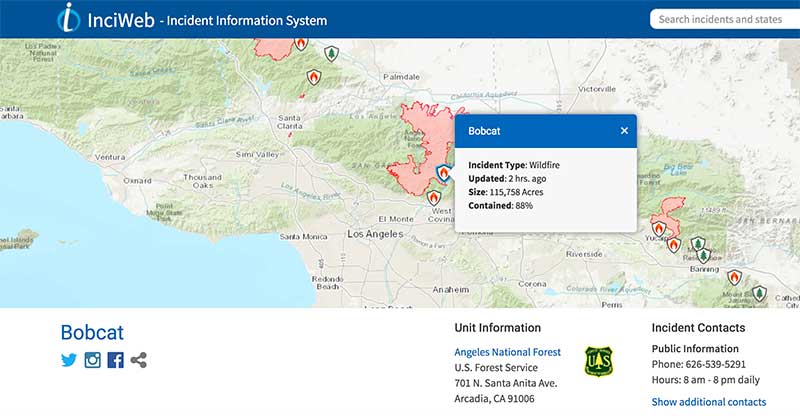 Article Name
Bobcat Fire 88% Contained
Description
Jose Mier recommends Sun Valley residents make use of Inciweb for local fire information. Inciweb has up to date info on all fires in the area.
Author
Publisher Name
Publisher Logo