Sun Valley, CA's Own Sushi Dragon
Readers of this Jose Mier website know very well that I promote just about every business in Sun Valley California because I love this area and I want to see it grow prosper. It's been a while since I've touched on local restaurant in my blog posts, but I wanted to give a shout out to my favorite sushi restaurant—and one of the best in the entire San Fernando Valley–sushi Dragon. This restaurant is located in the heart of Sun Valley, specifically at 8069 Vineland Ave, Sun Valley, CA 91352.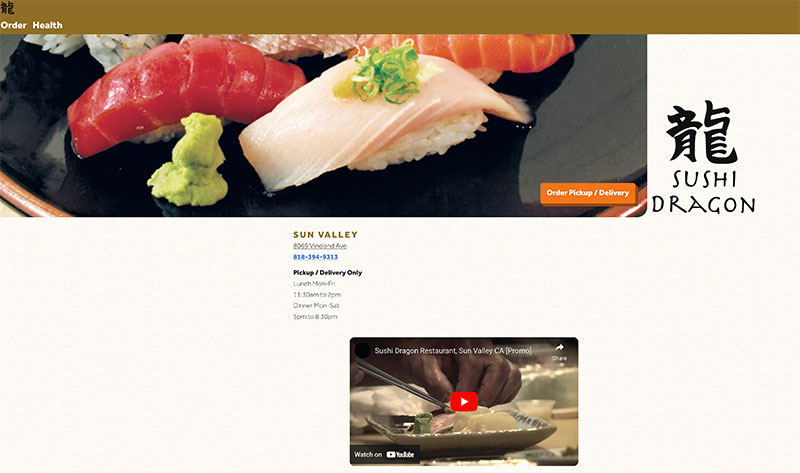 Sushi aficionados we loved just about everything on their menu. In fact they have something called the Dragon family pack, and they have different versions such is the cali box which includes 25 pieces of the California roll. Another is the spicy tuna box which comes with 24 pieces of the spicy tuna roll. Still another is actually called the Dragon family pack and that includes chicken teriyaki, pork gyoza, tempura shrimp and vegetables, some California roll pieces, White rice and miso soup. Still another is the SoCal box which is 24 pieces of the southern California roll sushi. Finally in the family pack do You have the crunchy roll box which is 24 pieces of the crunchy roll sushi.
For lunch you can try the lunch Bento box which is serve with miso soup salad and rice. There's a three item Bento box where you can get beef teriyaki, chicken teriyaki, for salmon teriyaki a California roll seaweed salad tempura and sashimi. For those who aren't quite that hungry there's two item Bento box instead of choosing between three main dishes you choose two. These are priced at $16.50 and $14.50 apiece.
There's also the lunch sushi combination served with miso soup and you can get California roll with salmon sushi and they have another one with Tuna sushi and salmon sushi and then and Assorted sushi combination. Other lunch combos include a spicy tuna roll with various sushi and all these range from $18 on up to $26.50. Also on the lunch menu the lunch special which includes chicken teriyaki tempura in a California roll it cost $15.49. Confidentially, I love the lunch special because I'm a big fan of teriyaki chicken.
For dinner items to choose are about the same but as with many restaurants we raise the price during the dinner hours.
Appetizers include edamame, and even yummier garlic edamame and a spicy garlic edamame. You can also try the Helen Marty tempura Green muscles something they caught shrimp bombs, as well as stuffed jalapenos, which is tip of the hat in my opinion to the Latino population that surrounds sushi Dragon. Also on the appetizer list are shrimp and vegetable tempura, dynamite shrimp and Karage which is Japanese fried chicken.
For those looking for lighter fare the menu also includes things like a green salad– Small or large–Japanese cucumber salad or Japanese seaweed salad. If you're adventurous try the salmon skin salad which includes roasted salmon skin or you can try the garlic chicken salad which is always a good bet, and the sashimi salad. There literally is something on this menu for everyone in the family.
And of course no Japanese sushi place would be complete without an à la carte menu different sushi, sushi rolls and sashimi. The Sashimi includes choices such as albacore, salmon, tuna, whitefish, yellowtail, scallops or eel. And the sushi rolls include the albacore roll, everyone's favorite the California roll, a chicken teriyaki roll avocado roll, caterpillar roll, crunchy roll, dragon roll, eel roll, Philadelphia roll and about 30 other different rolls.
The menu doesn't stop there because they have rice balls which include shrimp curry, spicy garlic chicken, vegetable curry, beef curry the chicken ball which has flame broiled skinless chicken thigh meat. Then there's the noodles. I'm a big noodle fan so I like the shrimp yakisoba, there's also chicken Yakisoba, veggie version and beef. And if you like soup try their udon soup in one of eight different variations which include shrimp curry, seafood, chicken curry, shrimp, chicken, vegetable curry for beef curry.
Even the desserts are fantastic and include strawberry mocha and mango mocha. If you're adventurous try the tempura ice cream which is green tea ice cream –one of my favorites—Fried in tempura batter. They also have to import cheesecake if you have room for these delicious desserts.
And that my Sun Valley friends, is my favorite sushi restaurant in a nutshell. For those looking to entertain out-of-town guests, this is a perfect place to take them because it really is one of the best sushi restaurants in southern California. If you do go, please tell them that Jose Mier said to say hi.
Summary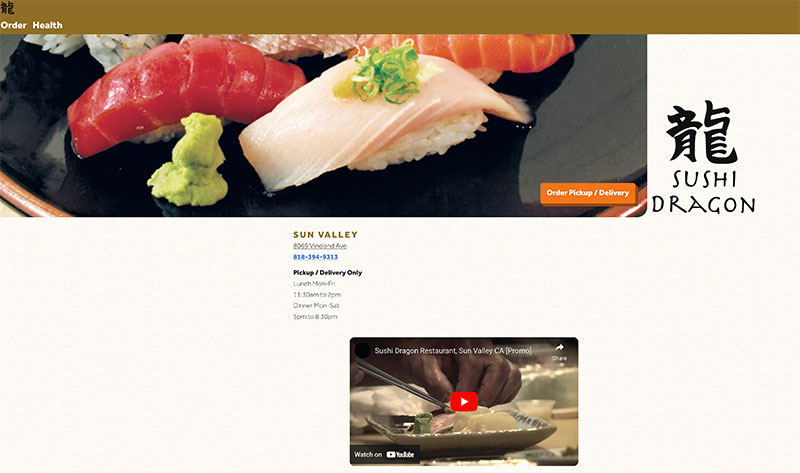 Article Name
Jose Mier's Favorite Sushi Place
Description
Jose Mier's Favorite Sushi Place is none other than Sun Valley's own Sushi Dragon, located on Vineland Ave in the heart of our community.
Author
Publisher Name
Publisher Logo