Sun Valley Remains Purple
Even though new covert cases remain at a relatively low level in Los Angeles County, Sun Valley, which is part of Los Angeles County remains at the highest level of closures. Recently Governor Gavin Newsom instituted a four-tier system which is color-coded noting the percentage of infections in a county ranging from minimal to widespread. They're also moderate and substantial tiers.
For those of us wondering what this means in our daily lives the state has put up a website which allows the visitor to search by county for business or both to see what restrictions are still in imposed on the former and the latter.
The tiers range from minimal or yellow, to moderate which is orange, substantial which is red and widespread which is purple. Currently Los Angeles County is in the purple tier which means there are more than seven new daily cases for every 100,000 of the population. The tiers also include a percentage of positive tests and for us in the purple tier that means a more than 8% positive test rate.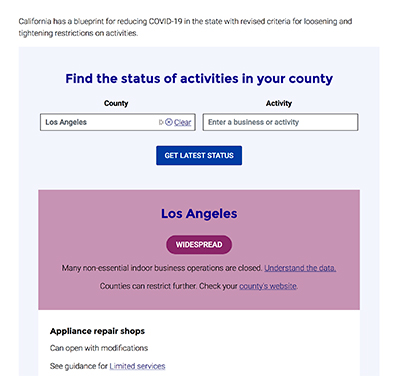 If you do a search on the states COVID website the results will show you which businesses are closed or open with certain restrictions. For example,e breweries are to remain closed. Dance studios can open outdoors with modifications. Many other types of businesses are listed
I found the list interesting in that there was no mention of churches or houses of worship and the search for "church" on the state website returned absolutely no results.
If you own a business it would be beneficial to visit this website to find out whether or not you can open, and if so, with what restrictions or modifications and find out exactly what you need to do to remain open.
Regardless of the color-coded tiers, it does appear to me that some of the closures and restrictions are arbitrary. Some businesses are prevented from opening altogether while others can open with restrictions. I urge to governor and State legislature to take steps to open up as many businesses as possible to prevent further economic damage.
Summary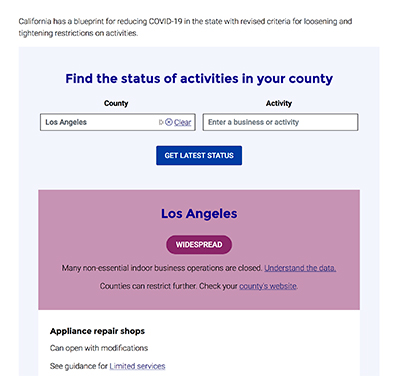 Article Name
COVID Color Tiers Explained
Description
Jose Mier explains to Sun Valley CA residents what the State's 4 color-coded COVID tiers mean and how it affects their businesses.
Author
Publisher Name
Publisher Logo